The UFC World Tour continues this Saturday, as UFC 204 takes place in Manchester, England with a main event pitting hometown hero – and UFC middleweight champion – Michael Bisping against Dan Henderson in a rematch of their 2009 showdown.
This is a bout both men wanted, but before they square off, the UFC FIGHT PASS portion of the card will kick off at 6:30pm ET / 3:30pm PT with a trio of hard-hitting bouts that will see the combatants attempt to steal the show from the headliners.
This is the UFC FIGHT PASS preview of UFC 204. Get UFC FIGHT PASS now to watch these three fights on Saturday!
Mike Perry came into the UFC talking earlier this year, he knocked out Hyun Gyu Lim in impressive style, and then he kept talking in the lead-up to the UFC FIGHT PASS Featured Bout against Danny Roberts. And that's okay, because when you hit as hard as "Platinum" Mike does, he can say whatever he wants as long as he keeps delivering the goods.
So it's not surprising that he assumes Roberts will be another clip for his highlight reel, but the Londoner is the real deal at 170 pounds, making this another one of those UFC FIGHT PASS bouts that is truly main card worthy. Add in Roberts fighting at home in England for the first time as a UFC fighter, and the crowd will be into this fight from start to finish. Just don't be surprised that with these two heavy hitters, that finish comes before the third round horn sounds.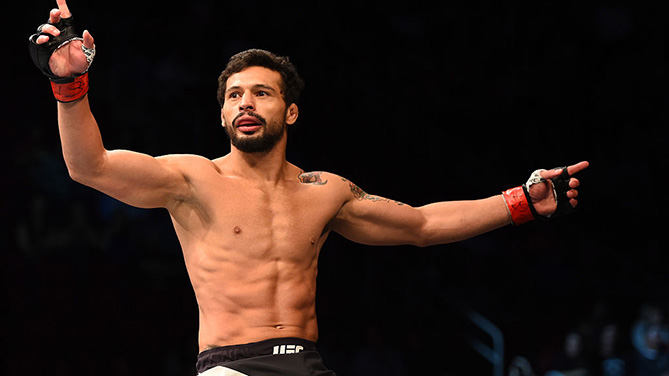 Adriano Martins vs. Leonardo Santos
Speaking of fights that would be right at home on the Pay-Per-View main card, the All-Brazil battle between Adriano Martins and Leonardo Santos certainly fits the bill. With a combined UFC record of 8-1-1, both Martins and Santos have proven themselves ready for the next level at 155 pounds, but inactivity has hurt them.
Santos, who knocked out Kevin Lee in his most recent bout, has been out since December of 2015. Martins' last bout, which saw him knock out Islam Makhachev, has been on the sidelines since of October of 2015. That's the bad news. The good news is that they're back, and they should put on a show this weekend. And hopefully, it will be the start of a more active stretch for both fighters.
Marc Diakiese vs. Lukasz Sajewski
If you talk to fight game insiders from across the pond, it's imperative that you put aside any Saturday afternoon plans and make sure you're tuning in to the very start of the UFC FIGHT PASS portion of the UFC 204 card to catch the Octagon debut of Doncaster's Marc Diakiese.
And why the very start? Well the kid did end his last two bouts in a combined 60 seconds, so he's got some pretty impressive stopping power in his arsenal. Poland's Lukasz Sajewski is no slouch though, so this could be a nice scrap to begin a full night of fights in Manchester.