Rewind back to the beginning of 2015 and Michael Bisping's career looked a lot different than it does heading into UFC 204 on Pay-Per-View this Saturday night.
Coming off his third loss in his last five fights, Bisping seemed further than ever from the elusive title shot that he'd been chasing for almost 10 years.
Then something amazing happened – a series of opportunistic events, actually. Bisping won a fight and then another. Anderson Silva needed an opponent for a fight in London and "The Count" got the call for the super fight with the man who reigned in his division for most of the time Bisping was chasing the belt.
Chris Weidman got hurt before his rematch with Luke Rockhold at UFC 199 and someone needed to fill his spot. Bisping took the title fight on two weeks' notice and shocked the world by knocking out Luke Rockhold in historic fashion.
Now Bisping is the champ, and his legacy is as impressive as any. The middleweight champion is tied with Georges St-Pierre for the most wins (19) in UFC history. He has wins over Silva and Rockhold and now gets the opportunity to avenge the most disappointing loss of his career against Dan Henderson at UFC 204.
Bisping vs. Henderson is the No. 1 reason to watch UFC 204

RELATED: Watch Bisping vs. Hendo 1 from UFC 100 free | Watch Bisping win the title vs. Luke Rockhold free | UFC 204 Embedded – Ep. 1 | Dan Hardy and John Gooden preview Bisping-Hendo 2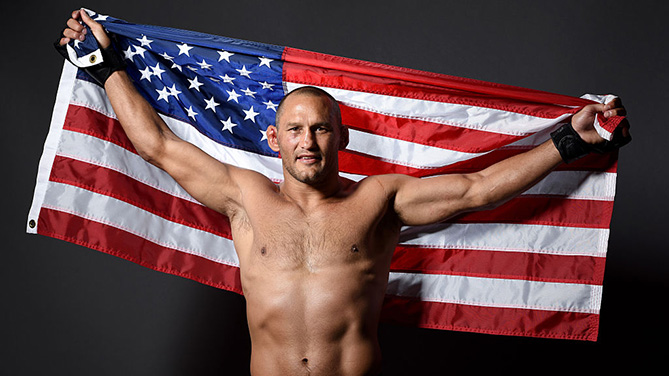 2- One last chance to watch the great Dan Henderson
Speaking of legendary fighting careers, Henderson is one of the best to ever do it and he's still going strong. In his last appearance, "Hendo" finished Hector Lombard with an unbelievable head kick KO and now sets his sights on the middleweight title before he walks away from the sport.
Henderson has said he will retire after this fight, win or lose, completing one of the most iconic careers in MMA history — one that has spanned the UFC, Pride and Strikeforce. But Henderson has never captured UFC gold and he hopes to change that in his last outing.
Henderson is tied with Shogun Rua for third on the all-time UFC/Pride/Strikeforce/WEC KO list. The one-time Olympic wrestler from Temecula, Calif. has 15 knockouts out of his 32 career wins, good for almost a 50 percent KO rate. Only Wanderlei Silva (19) and Mirko Cro Cop (18) have more.
3 – The rebirth of Gegard Mousasi
A little more than a year ago Gegard Mousasi was KO'd by Uriah Hall and seemingly past his prime in a stacked middleweight division. But now he's riding a two-fight win streak and is coming off a destructive first-round KO against Thiago Santos.
Mousasi is one of the most well-rounded fighters in the game. He is a savvy striker with power and pace, and he rarely gets taken down. He absorbs only 1.37 significant strikes per minute, which is good for the lowest rate among active middleweights. Plus, his elusive style allows him to out-land opponents as he's posted a +1.69 per minute differential – good for the third-highest mark in the middleweight division.
Against Vitor Belfort in a dream of a co-main event, Mousasi is going to be up against one of the fiercest strikers in the history of the sport. Belfort has 14 career finishes, which is good for the most in UFC history.
4 – OSP back in action
Ovince Saint Preux is coming off a loss, but it's important to remember he was facing arguably one of the greatest of all time in Jon Jones.
Saint Preux did some good things against Jones, but the tactical Jones proved to be too much in the end. Now OSP has a chance to get back to his winning ways against a hungry Jimi Manuwa.
Manuwa has lost two of his last three after winning three in a row to start his run in the UFC. A one-sided loss to Anthony Johnson was the result of his last fight and he'll surely be looking to get back on track in England, his home country.
5 – Welterweight prospects collide
The UFC FIGHT PASS featured bout between Danny Roberts and Mike Perry is a battle between two prospects at 170 pounds who have yet to taste defeat in the UFC.
Roberts has started his UFC run with wins over Dominique Steele and a submission win against Nathan Coy. Perry is 8-0 and made his debut with a first-round KO against Hyun Gyu Lim.
Both fighters like to bang, but Roberts is probably the more technical striker. Look for Perry to bring the volume and aggression and if the fight hits the mat, it could be advantage: Roberts.
Matt Parrino is a digital producer and writer for UFC.com. Follow him on Twitter at @MattParrinoUFC