MANCHESTER, England
It's good to be Michael Bisping.
So far in 2016, Bisping not only became the first Brit to win a UFC championship by shocking heavily favored Luke Rockhold at UFC 199, but he also defeated one of MMA's greats in Anderson Silva and furthered his career outside the Octagon by acting in the upcoming blockbuster xXx sequel alongside Vin Diesel. Add in his supportive family and you get what some would consider the perfect life.
But as the 37-year-old prepares to defend the middleweight championship in front of a raucous home crowd in Manchester, England at Saturday's UFC 204, it's easy to forget that it wasn't always perfect for "The Count."
Every fighter has a list of obstacles that were overcome on the path to success, but Bisping certainly has more than his share. He paid his dues, and now he's reaping the benefits.
He isn't shy about sharing stories of the sacrifices he made to get to where he is – sleeping in his car at times, struggling to make ends meet — but Bisping endured, and things looked to get on track when he won Season Three of The Ultimate Fighter, starting his UFC career with a run of four-straight victories. But stumbles would begin after his first professional loss against Rashad Evans at UFC 78.
Every time he built momentum, a loss would derail that progress. Combine that with numerous personal obstacles, including a detached retina he sustained in a loss against Vitor Belfort in January 2013, and this could easily have been a story about a fighter who had moments of brilliance on the mic and in the Octagon but never fully realized his potential.
Thanks to persistence and a bit of good fortune, this is not that type of story. This is the story of a guy who kept getting back up and is making history – in more ways than one.
RELATED: Watch Bisping vs. Hendo 1 from UFC 100 free | Watch Bisping win the title vs. Luke Rockhold free | UFC 204 Embedded – Ep. 1 | Dan Hardy and John Gooden preview Bisping-Hendo 2
Multiple eye surgeries helped him return to the Octagon and following a loss in his return to Tim Kennedy, Bisping has been on a tear – accumulating a 5-1 record over his last six fights, including his current four-win streak.
"I don't spend time dwelling on all the sacrifices that I've made, but it does run through my mind prior to a fight," Bisping said in the days prior to arriving in Manchester for UFC 204. "Prior to walking out to the Octagon I think about the journey I've been on and I think that gets me mentally prepared."
That mental preparation has been the key recently. Known as a brash talker, Bisping has been working with longtime boxing coach Jason Parillo to unlock his potential and reach new heights.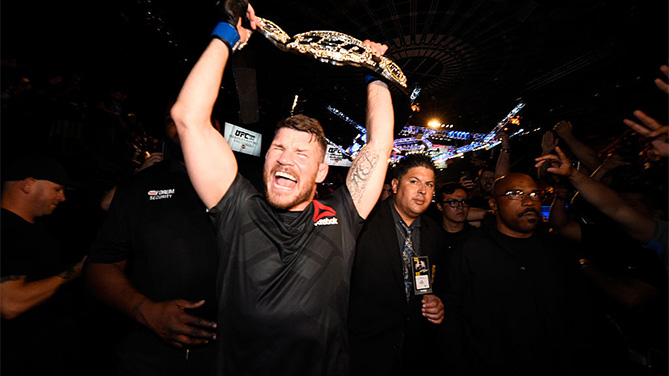 "He has really worked wonders with me more on the mental side of things," Bisping said of Parillo. "The physical side has always been there – I trained hard and applied myself, but Jason has worked on the mental side of things and is giving me a more cerebral approach to my fighting. He's worked on making me nice and calm going into a fight."
That helped him overcome the odds against Silva in London this past February and even bigger odds when he stepped up on short notice against Rockhold in June to become world champion, earning his 19thcareer UFC win, tied for most all-time (with 15 coming within the middleweight division – a new record). He's also a must-see fighter in terms of action – he has never been shy about mixing it up and he has landed the most significant strikes in UFC history over his career.
Saturday night, Bisping gets a chance to avenge a past loss against Dan Henderson, who defeated him at UFC 100. But this fight is about more than Hendo for Bisping. He will achieve what no other fighter from the UK has done before, as he brings a world championship fight home to England.
"I don't lie in bed thinking about getting revenge on Dan Henderson," Bisping said. "My career has surpassed Dan Henderson and now I'm the champion of the (expletive) world. I have to win this fight – of course I'm the champion and I want to keep the belt, but if I lose to Dan Henderson that'll be worse than losing it to anybody else – I don't want to lose to Dan Henderson twice.
"I always dreamed of being here. If I'm honest, I kind of thought it wouldn't happen, but here we are, I am the champion and my first defense is in Manchester. It really is what childhood dreams are made of. I'm a happy man, I get to represent my country on the world's stage, I get to rematch a legend of the sport, I get payback on a guy that viciously knocked me out, I get to get paid. There's a lot on the line here. That's why I've trained accordingly and I get to represent myself, my family and Great Britain. Hopefully I put on a hell of a show."